In today's digital age, social media has become an integral part of any business's communication strategy. Social media platforms such as Facebook, Twitter, Instagram, LinkedIn, and TikTok offer companies an opportunity to engage with their target audience, increase brand awareness, and drive sales. However, managing social media accounts can be time-consuming and challenging, especially for businesses without a dedicated marketing team. This is where social media management services from a brand communications agency like Carlstic come in handy.
Below are top 5 reasons why companies need social media management services from a brand communications agency:
Expertise and experience
Brand communications agencies specialize in developing and executing communication strategies that help businesses achieve their marketing objectives. They have a team of experts who understand the ins and outs of social media, can create and manage a social media strategy that is tailored to your business's goals. They can also help you stay up to date with the latest social media trends and tools to ensure your social media presence remains relevant.
Consistent and Quality Content
A brand communications agency ensure that your social media pages are consistently updated with high-quality content that resonates with your audience. From the expertise and dedicated team, agencies will create a content calendar that outlines the types of content to be posted, the frequency, and the platforms to be used. Agencies like Carlstic also have dedicated graphic designs who create engaging graphics and videos that capture the attention of your audience.
Increased engagement
A brand communications agency can help you increase engagement on your social media pages. They can monitor your pages for comments and messages, respond to inquiries promptly, and engage with your audience in a meaningful way while at the same time monitoring best performing content. This can help you build a community of loyal followers who are more likely to engage with your brand and share your content with their networks.
Reputation management
Part of the main work for agencies is to help you manage your online reputation by monitoring your social media pages for negative comments or reviews. They respond to negative feedback in a professional and timely manner while addressing any concerns or issues that customers may have. This can help you maintain a positive image and build trust with your customers.
Measurable results
Most agencies are value and results-driven since the client must get a return on investment. By this, teams in agencies commit to giving you measurable results that will help you track the effectiveness of your social media strategy. They provide you with analytics and reports that show your social media reach, engagement, and conversions. This can help you make data-driven decisions and refine your social media strategy to achieve better results.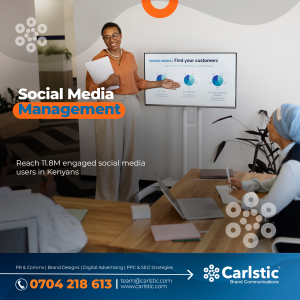 In conclusion, social media management services from a brand communications agency are essential for businesses looking to build a strong social media presence. They can provide you with the expertise, experience, and resources needed to create and manage a successful social media strategy.
If you're looking to improve your social media presence in Kenya, consider partnering with a brand communications agency like Carlstic to take your social media game to the next level.
The cost of social media agency services in Kenya can vary depending on several factors such as the scope of work, the experience and expertise of the agency, the size of your business, and the duration of the project.
Our monthly social media services price in Nairobi, Kenya pricing at Carlstic starts from KES 44,855 for basic social media management services and can go up to a few hundred of thousand for more complex campaigns and services that require advanced analytics, advertising, and content creation.
Kindly call us on 0704 218613 or visit our website to kickstart your social media transformation for your brand.